Biography of Diane Berube Portrait Artist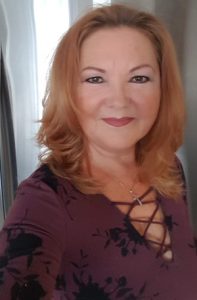 Diane Bérubé
is considered one of the most talented portrait Artist in Quebec.
Born in Montreal, she is a self-taught Artist, she has been painting since the age of 9 and she received he first order for a portrait at 12 years old, a Portrait artist was born.
Philosophy
For a Realistic Portrait Artist, each painting is a tribute to life, to the unique character of a subject made immortal by the magic of drawing and colours
The subject will always require me to immerse myself deeply into him and work carefully until realism emerges …
For me it is a passion and especially a great privilege to reproduce life this way.
Academic training:
Graduated in Arts at Collège Lionel-Groulx in Ste-Thérèse, 1978. UQAM. Painting and drawing, 1979. Living model workshops.
Artistic Experience:
Muralist, sculptor (bronze), enamelling artist, illustrator for books and advertising house, animal painter, realistic portraits painted according to the technique of master painters.
MEDIA USED:
Charcoal, pastel, oil, acrylic and clay for modelling.
PROFESSIONAL ACTIVITIES:
Professor of drawing, pastel and oil painting.
* Private lessons since 1981
* Guest artist for conference and portrait demonstration in Canada and the United States.
* Seminars on portrait painting for artist and groups of artists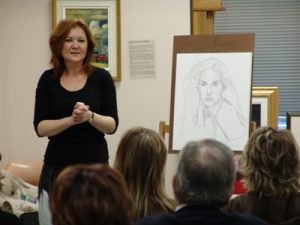 Portrait painting Specialist:
The artist can reconstruct characters from old black and white photos and paint them in realistic colours.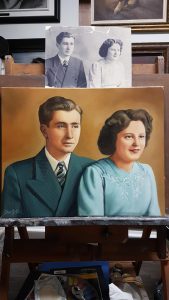 The artist generally paints from photographs and can include variations and changes of clothing , hairstyle, background, colour enhancement, slight rejuvenation of the character, etc. for the client.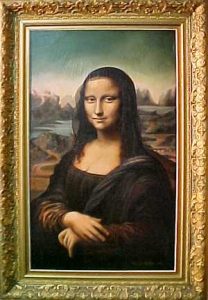 Copy of the Mona Lisa, done at the age of 16
THE ARTIST IN THE NEWS:
News media, Canadian television, weekly magazines, newspapers and radio mentioned Diane Bérubé's artworks:
* Off-Game (RDS) 2005
* TVA, Danielle Ouimet, Bla-Bla-Bla show (1998)
* The Gazette (2004)
* Journal de Montreal (1998-2004)
* Le Dernière Heure (1997 and 2005)
* Echo-vedettes
* Courrier Laval (2003-2004-2005) frontispiece
* Radio CKVL
* Paris-Match and France-dimanche in Europe (1996)
* 7 Jours magazine (1995)
* L'international du sport in Montreal
* The journal La Revue (2008)
IMPORTANT BUYERS:
* Montreal Alouette, official painter since 1996
* Michel Desjardins Ltd.
* Sonic Oil
* City of Terrebonne
* Ottawa Court Of Appeal
* Ottawa Supreme Court
* Nhl Refere association
RENOWNED PEOPLE:
* Celine Dion, Rock Neighbor, Sonia Benezra, Maxim Roy, Jean-Luc Mongrain, Jean-Pierre Coallier
SPORTS:
* Mario lemieux, Jose Theodore, Jean-Pierre Dumont of Buffalo Sabers, Stephan Lebeau, Deano Clavet, Martin St-Louis
BUSINESS PEOPLE:
* Luigi Liberatore of Elmag inc.
* FTQ construction
* The Alabainery
* Asphalt Altas
* Hogue Roofs
* Automata Bouvrette
* Martin Charron
INTERNATIONAL CUSTOMER:
Diane Bérubé's portraits can be found in Japan, Spain, Switzerland, Holland, France, England, Lebanon, the United States and throughout Canada.
PREVIOUS EXHIBITIONS:
* International Exhibition of Collectors
* Benjamin-Papineau House, Laval
* Salon V.I.P. Dorval Airport
* Communiqu'art (St-Eustache)
* Spectra Lounge (Ville St-Laurent)
* Place O Artists (Joliette)
* Pein-Art (Quebec)
* Laval Crafts Fair
* Montreal Crafts Fair (Place Bonaventure) and also Quebec City
* Complexe Desjardins (Montreal)
* Feast of Quebec 1524-1984
* International Festival of Visual Arts (Olympic Stadium of Montreal)
* Hilton Hotel (Laval)
* Château de Beaufief (France) 2004
* Dungeons of Pons (France)
* Cloâtre de Carnes in Jonzac (France)
* Ontario-show Collectors
* Laval Hockey Show
* Rousseau Sports of Laval
* Foundation of the House of Arts of Laval (The Talented Laval 2007)
* Rimawi Art Gallery (currently)
PROFESSIONAL AFFILIATIONS:
Listed in the Roussan Guide, painter of Quebec, evaluation in Gallery
Steiner Sports Marketing New York and the NHL
PUBLICATIONS CONTAINING DIANE BÉRUBÉ'S ARTWORKS:
Author's book Mem Mehmet (2007, England) entitled Diana In Art, Book The Mayors of Terrebonne by Aimé Despatis, 60 paintings in all (2008), Authors' book Pierre Bruneau and Léandre Normand published by Éditions de l'Homme entitled , Les légendes du Canadien (Nov. 2009).