Teaching
For those who have already purchased my DVD, here are the links to specific pages where you will need to use the special code included in the box.
The Drawing, Exercises, Other Mixes
Learn how to do an Oil Portrait in 5 steps with my teaching Video
Hello everyone,
I am pleased to present a preview of the cover of my teaching and demonstration Video.
Nearly 3 hours of real-time instruction, learn how to make portrait in oil in five-steps.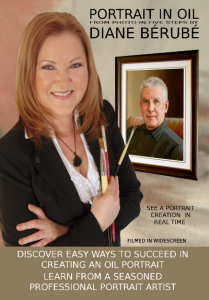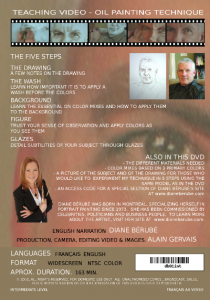 Get your copy for $29.95 plus taxes and shipping.
See a trailer of the video here, https://www.dianeberube.com/videos-en/
Here is the inside of the DVD case.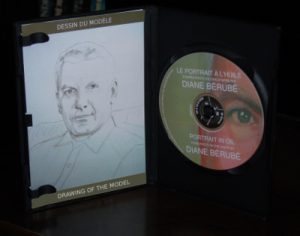 To order your copie, diane@dianeberube.com
Or press the button below for a credit card payment with Paypal. The price includes taxes and transportation throughout Canada.
You can also send a check or postal money order of preference to Diane Bérubé, 198 rue Saint-Hubert, Laval, Qc. Canada, H7G 2Y4. For a total amount of $ 40.39 including delivery Canada and taxes. Do not forget to include in your shipment, your delivery address.
It is also possible to deliver the DVD in France or other European countries, the shipping costs will be the same, the amount paid for taxes, will be transferred to the shipping costs.
For the Physical DVD
For the Digital downloadable video
It is now possible to download the video in digital through the Payhip site, for $19.95 US,  go directly by pressing the following link you will be automatically directed Payhip